20TPH CFB Boiler is a small capacity CFB boiler among the CFB boiler product group. Coal fired boiler manufacturer Taishan Group won a 20t/h Circulating Fluidized Bed Boiler (CFB Boiler) EPC in Vietnam in 2020. Following the first 35t/h and second 25t/h coal CFB boiler, this is the third CFB boiler EPC project in Vietnam. It covers coal fired boiler, boiler auxiliaries, steam piping, water piping, coal feeding, flue gas and air duct, ash and slag removing, SO2 removing, blowdown system, DCS.
The whole world suffered a lot due to the outbreak of COVID-19 in 2020. After gaining the project, we made great efforts to ensure smooth process from production to installation. After 5-month installation work, this 20TPH CFB Boiler started running in April 21, 2021.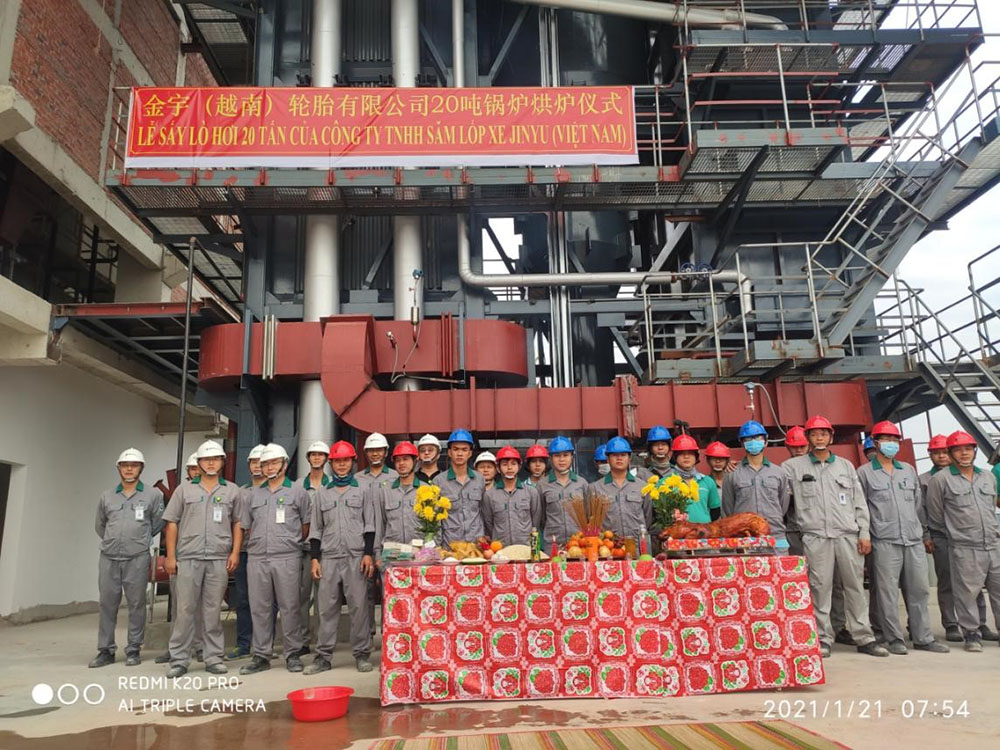 Technical parameter of the 20TPH CFB Boiler
Model: DHX20-2.5-M
Capacity: 20t/h
Rated steam pressure: 2.5MPa
Rated steam temperature: 225℃
Feed water temperature: 104℃
Flue gas temperature: 140℃
Boiler efficiency: 88.4%
Operation load range: 30-110% BMCR
Blowdown rate: 2%
Coal particle: 0-10mm
Coal LHV: 15750kJ/kg
Fuel consumption: 3.5t/h
Dust emission: 50mg/m3
SO2 emission: 300mg/m3
NOx emission: 300mg/m3
Introduction to the 20TPH CFB Boiler User
This final user is a tyre factory. It has an annual production capacity of 900 thousand pieces of all-steel truck radical tire. With total assets of over 3 billions RMB, Jinyu Tire has advanced tire producing, developing and testing machines and professional techniques, management team and complemented quality warranty system. With a production capacity of all steel radial tires of 3.4 million pcs/year, the products have been distributed widely throughout China as well as other 100 oversea countries and regions.  Their products have been certified by CCC, ISO/TS16949, DOT, ECE, INMETRO and other applicable standards required by particular countries. Also the laboratory of the company has passed the CNAS approval.