Gas Hot Water Boiler is another type of gas fired boiler. Gas fired boiler includes gas steam boiler and gas hot water boiler. Gas fired boiler has the advantage of high efficiency, low NOx emission, and good stability.
Another name of gas hot water boiler is gas heating boiler. Usually, it has a gas fired burner located at the front wall for ease of operation and maintenance. A gas burner fires into the furnace and tube to heat the water inside the hot water boiler shell. The heated water is delivered to the heating network via a circulating pump and returned to the hot water boiler for repeated heating. Any loss of water shall be supplemented by chemically treated fresh water.
On 21 September 2019, industrial boiler manufacturer Taishan Group won five sets 58MW gas hot water boiler projects in Zhengzhou. It is horizontal water tube boiler with foreign brand low-NOx burner. Flue gas waste heat recovery device improves the thermal efficiency. Now these five sets gas boilers are running stably at site.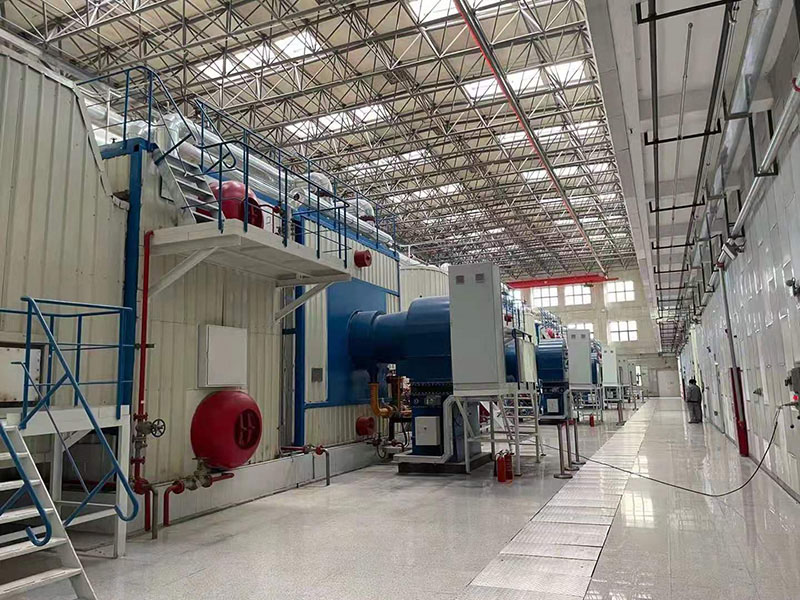 Main equipment list of the gas hot water boiler project
Model: SZS58-1.6/130/70-Q
Rated power: 58MW
Rated output water pressure: 1.6MPa
Inlet and outlet water temperature: 70 / 130℃
FD fan with VFD and silencer: flow 102000m3/h, pressure 8800Pa
Boiler circulating pump: flow 2100m3/h, head 30m
Heating network circulating pump: flow 2600m3/h, head 120m
Heating network makeup pump: flow 200m3/h, head 110m
Salt solution pump: flow 45m3/h, head 30m
Full auto filter: DN600, 1kW
Compressed air: flow 5.84m3/min, pressure 1.275MPa
Air storage tank: volume 1m3, pressure 0.84MPa
Stainless steel chimney: diameter 2000mm, height 18m
Plate heat exchanger: capacity 110MW, t1-130/70℃, t2-120/60℃
Softened water tank: volume 100m3
Water softener: capacity 200t/h
Gas pressure regulating and measuring station: pressure 2MPa, flow 35000Nm3/h
Gas pressure regulating box: flow 30Nm3/h, pressure: 2kPa
Natural gas consumption: 9000m3/a
Water consumption: 17650t/a
Power consumption: 55kwh